2014-09-16 13:01:27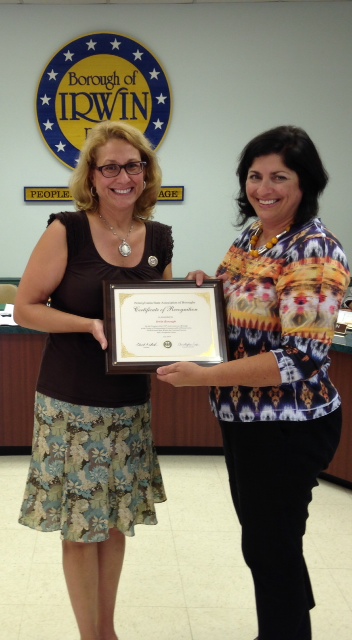 Pictured: PSAB Board Member Diane Schaefer and Debbie Kelly, chairwoman for the 150th Celebration Committee
Irwin Borough in Westmoreland County is celebrating its 150
th
anniversary this year, but the original community dates to the late 1700s when Colonel John Irwin purchased a tract of land in the area. Situated near Brush Creek, Colonel Irwin selected the highest elevation on the property to build his home. Though his first two homes burned down, his third house, made of stone, still stands and pays homage to the town's founder. To learn more about Irwin, visit
www.irwinborough.org
.
As time passed, the community grew around the creeks and active rail lines and became known as Irwin Station. by 1864 the town had grown to around 500 residents and the county Court of Quarter Sessions was petitioned to incorporate the community as a municipality. Later that year, Irwin Borough was incorporated as a municipality in Westmoreland County.

The community continued to grow as a result of its proximity to the railroad and coal mines. The job opportunities at the coal mines enticed many European immigrants to the region and helped to make Irwin an ethnically diverse borough. In the late 1890s the town was bustling with people and business. At the time, Irwin was home to numerous churches and hotels as well as a dry goods store, flour mill, foundry and brewery. The borough also had a trolley car that helped connect rural residents with the downtown community of 4,000 residents.

Irwin has maintained its population base since the late 19th century and is a bedroom for larger communities, such as Pittsburgh. The borough has maintained its diversity of residents and business. With numerous churches and recreational opportunities, Irwin also offers its residents and visitors access to a music shop, a homemade chocolate store, hair salons, restaurants, dance studios and several other specialty shops. The borough has an active business association and has been working on streetscape enhancements. The most recent project added new decorative street lights, gateways and a wrought iron archway. Decorative plantings, trees and fences throughout town have further established the feeling of a walkable community.

Irwin comes alive every summer with music and festivals. Summer concerts are held at Irwin Park twice during each summer month and art and jazz nights are held on the third Thursday of each summer month. There are also other community events held throughout the year, such as an antique and classic car cruise in spring, a homecoming parade each fall and a holiday parade that kicks of the winter shopping season.

Irwin encourages people to "Find Your Place Here". The borough is a great place to visit and an even better place to live and work.