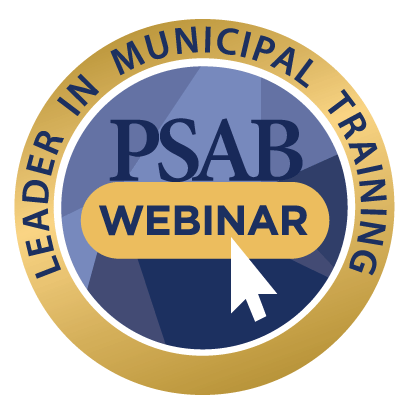 The Pennsylvania State Association of Boroughs is pleased to announce its Webinar training series. Save money, time and travel with PSAB's webinar programs. Borough officials, and employees can attend PSAB's outstanding education and training programs without leaving the borough office or even your home. With the Internet, each participant sits at their computer and is connected with other participants and the instructor. Webinar sessions will generally last 80 minutes with all handout materials available several days prior to each session.
What do I get for my registration fee?
You get a live, real-time, interactive audio presentation via phone line and an enhanced PowerPoint presentation via the Internet.
How many people can attend?
Your fee allows many people to participate in the webcast from your site. You can include your entire borough council and your staff too. The number is limited only by the size of your conference room.
What equipment will I need?
You will need a phone and a computer equipped with an Internet connection. For a large group, you will want to use a speakerphone and a conference room with a screen for projecting the computer display.
Can I ask the speakers questions?
Yes. You can ask questions live during the Q&A segment of the program.
Can I see a demo of the program?
Yes.
Click here to view a demo.
What do others think?
This was my first experience with a webinar class. I am planning to do more of them in the future. I felt that the webinar offered the comfort of home with the ability to ask questions which added a personal touch.
Carolyn Williams
New Morgan Borough

My first webinar.... great idea, no travel expenses etc. Good news for my Borough. I have done two more webinars since this one and I think they are fantastic. What a great idea!
Lynn Kohlmeyer
Leetsdale Borough

The Heart/Lung webinar saved the borough money immediately, as they had an officer out and no one understood how the system worked. He is off Heart/Lung now and everyone is satisfied.
Virginia Kehoe
Clarks Summit Borough