The PA State Association of Boroughs (PSAB) has launched its new Advocacy Action Network and invites you to sign up for legislative action alerts through our new advocacy system.

Using this system, PSAB will send text and email alerts to engage you in legislative outreach. However, you must opt-in to receive these alerts. You will be emailed a link to sign up for emails, text messages, or both.

To join the Advocacy Action Network, please text

PSABSIGNUP

to 52886 OR visit the Advocacy Action Network webpage. Please note that due to federal CAN-SPAM laws, PSAB cannot sign you up. PSAB will send no more than 4 messages a month, and you can opt out at any time.

At the time of registration, you may choose your preference of how you wish to receive the alerts. You may choose text, e-mail or both by checking the boxes as illustrated below.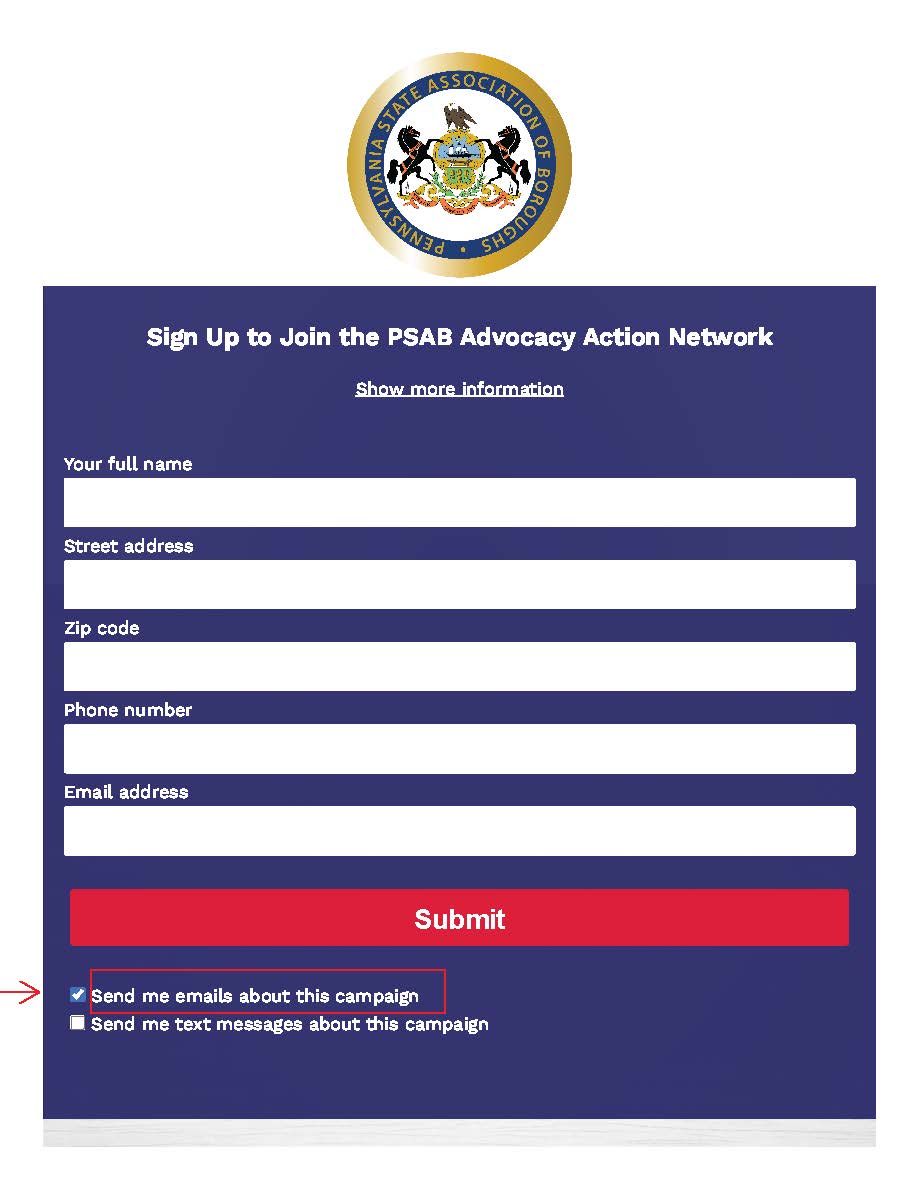 PSAB will periodically use this system to send out action alerts asking members to act on a specific bill; to inform members about critical public policy issues, and to put members in contact with their legislators. Signing up for these alerts allows your voice to be heard in Harrisburg and Washington, DC.

If you have any questions about the new Advocacy Action Network, please contact actnow@boroughs.org. We look forward to engaging you with this new platform and in the PSAB Advocacy Action Network!

Questions about the new Advocacy Action Network? Contact Ed Troxell, Director of Government Affairs at etroxell@boroughs.org or Ron Grutza, Senior Director of Regulatory Affairs & Assistant Director of Government Affairs at rgrutza@boroughs.org.
Please note that PSAB will use your information only for the outreach mentioned above. PSAB will not sell or use your information in any other manner.