Municipal Employee Drug & Alcohol Testing
Critical Notice for Municipalities With CDL Drivers - Clearinghouse

More information on the Clearinghouse and instructions for employers and drivers is available below from PSAB's endorsed insurance provider, Keystone.

Listen to a recorded webinar here.

Learn more about the Clearinghouse here.

View instructions for employers here.

View instructions for CDL drivers here.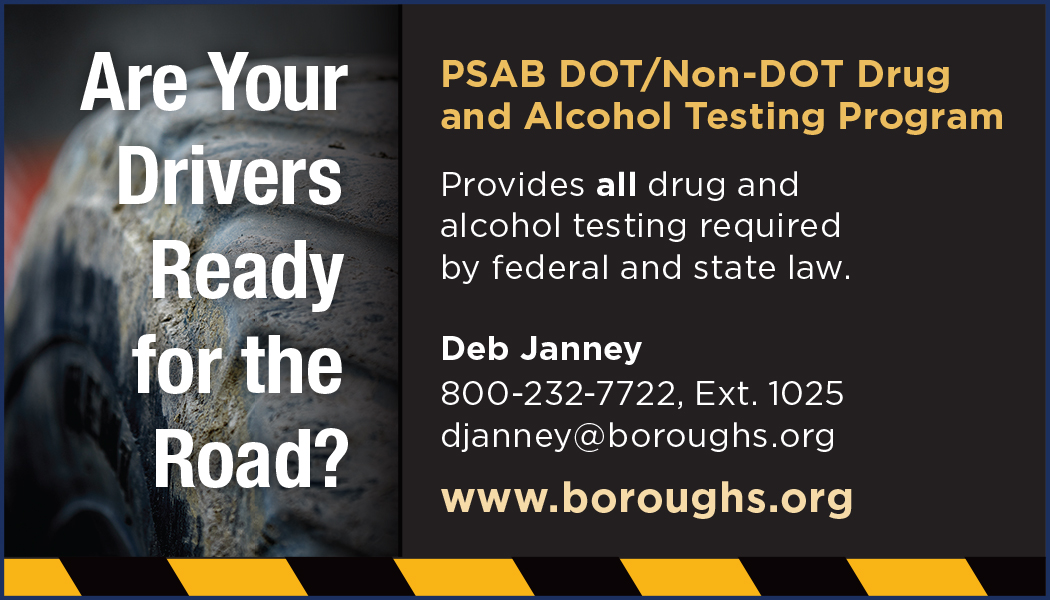 PSAB's Municipal Employee Drug & Alcohol Testing Program

PSAB's random drug and alcohol testing group program provides affordable peace of mind for municipalities regarding testing DOT drivers and DOT employees driving municipal vehicles.

Vault Health is a Third-Party Administrator (TPA), not an analytical laboratory, specializing in the outsourcing of the design, implementation, and management of drug and alcohol testing programs.

Click here to view the brochure.

Our program provides all required testing by law for DOT employees:
Pre-employment,

Post accident,

Reasonable suspicion,

Return-to-duty, and

Follow-up.
Other PSAB program benefits include:
Separate pools for DOT and Non-DOT employees

Access to a program administrator – Vault Health

Vault Health has 720 collection sites in PA for your convenience

Vault Health selects drivers for testing each quarter

Vault Health supplies all necessary forms, training, and consultation to meet DOT regulations
If you are a member of this program, there are important documents that you may need. These documents are password protected. If you do not have the password, contact Deb Janney, Senior Director of Membership Services & Risk Management at djanney@boroughs.org.

Click here to access these documents.