Business Partner Application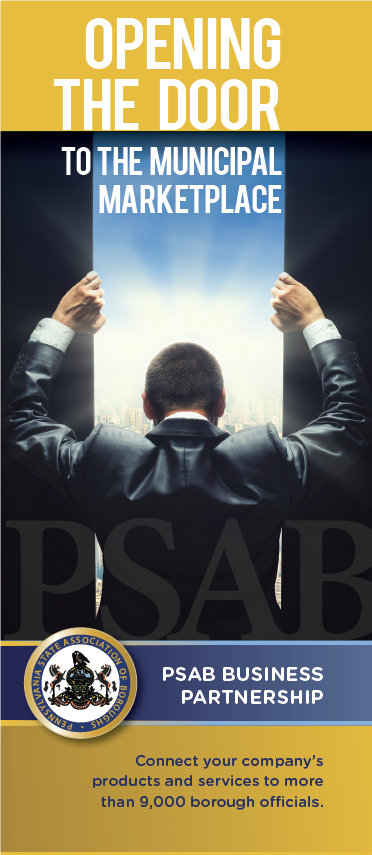 Business partnerships are made available to persons, firms, or corporations providing services or supplies to borough government. Dues are $250 a calendar year for the first sponsor of any firm and $100 a calendar year for each additional sponsor of the same firm. Dues may be pro-rated according to the schedule on the application.

Sign up for partnership!
Click here to download and print the PSAB Business Partner Application.

Click here to complete the application online. You can choose to receive the invoice or pay online.
Following are some of the benefits to you and your firm:
Each partner will receive one copy of our award-winning monthly magazine, Borough News, and the PSAB annual report.
Business Partners can submit updates and/or press releases for publication in the Business Partner column of the Borough News. This is an exclusive Business Partner benefit.
Partners receive discounted rates for advertising in the Borough News. Click here for more information.

Business Partners can submit projects, community events, special events, etc. to be featured as the Business Partner Spotlight on the homepage of our website.

Partners receive access to PSAB's online membership directory that contains comprehensive information about our membership to provide direct connections.

Partners receive a listing in our membership directory with contact information, website, and company description.

Business Partners receive a discount on the exhibit fee at the PSAB Annual Conference. (The free for non-business partners is $1,200.)

An easy-to-use spreadsheet of borough addresses and phone numbers is available upon request.

Your company receives special listing on the Business Partner section of our website where referrals are made for products and services.

Partners receive member rates for all training and professional development offered through PSAB.
Business partner fees are not used for any lobbying efforts by PSAB.