Three Springs Borough Celebrates 150th Anniversary
May 7th, 2020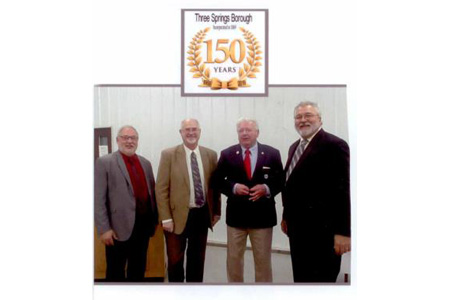 Three Springs Borough, Huntingdon County, celebrated its 150th Anniversary in 2019.
While the borough is named for Three Springs Creek, it does run through the borough. Instead, Spring Creek and North Spring Branch flow through the borough, joining just southeast of the borough limits to form the municipality's namesake waterway, which is an eastflowingtributary of Aughwick Creek and part of the Juniata River watershed. Sinking Run is a tributary of Three Springs Creek that also flows through the borough.
PSAB President Tom Gramling presented a citation in recognition of the celebration. Pictured from left are Scott Walls, Mark Sathers, Gramling, and Jeff Thomas.
Learn more about the borough at
www.threespringsborough.org
.